"He's A Kick Returner"
June 12th, 2013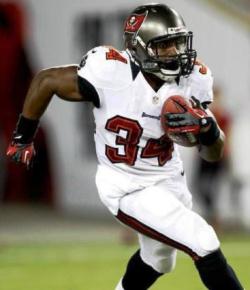 Last year had to be frustrating for running back Michael Smith. Drafted in the seventh round, Smith, lighting fast, was thought to be a darkhorse scatback backing up Doug Martin and a lethal kick return man.
Instead, after the first game, Smith became captain of the inactive list. He never wore a helmet for another game.
Joe got a chance to chat with Smith, who clearly hopes to take the field in more than one game, so he said after the first practice of mandatory minicamp yesterday.
"You take it how you see it," Smith said of being wed to the inactive list. "I look at it as an opportunity to stay in the NFL. I just listened to the coaches. They told me what I need to do, what I need to work on. My opportunity didn't come last year. Hopefully it will come this year. I just have to keep working hard."
Smith thinks that being in the second year of the New Schiano Order can only help his quest to get on the playing field.
"I understand the offense better. I understand the schemes," Smith said. "That will help out."
A new season brings new goals. Last year, Smith's initial goal was to make the team. He did. Now there are different goals (aside from staying off the inactive list), especially with a new running back in the mix, Mike James.
"I take nothing for granted," Smith said. "I still have to make the team. At the same time, my confidence is a lot better, I know what [coaches] expect and show them what I've got, not thinking about plays when I show hesitation."
When Joe asked Smith about returning kicks, he beamed like an old lady from Pasco County who just won Powerball.
"Yes, he has talked to me about that," Smith said of special teams coach Dave Wannstedt, who Smith loves playing for. "Experience. I go up there and try to pick his brain about this, this and this. If I ask him about something, he always has an answer to help me, whether it is setting up blocks or returning the ball. Just like [running backs coach Ernest Byner].
Smith broke out laughing noting how Wannstedt, 60, may be the most excitable if not vocal coach on the Bucs' practice fields.
As far as Bucs coach Greg Schiano's take on Smith, Schiano said Smith "is a kick returner" who will get plenty of preseason work while Martin rests to keep the Pro Bowl running back fresh.