Bucs To Be "Top-Five In Pass Defense"
June 18th, 2013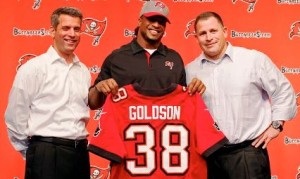 Killing time and creating content during the current dead period for the NFL until training camps open, NFL Network has begun a weekday series "32 for 32," a preview of each NFL team in just over five weeks until teams begin the drudgery of training camp late in July.
Monday was the Bucs' turn, and Joe will highlight elements today and tomorrow.
Analysts LaDainian Tomlinson and Darren Sharper broke down the Bucs with host Andrew Siciliano. It was noted by Siciliano that on paper it appears the Bucs have a "far better" secondary. But the two analysts somewhat disagreed. Sharper, a former cornerback himself, was skeptical.
Darren Sharper: They can only go up. But it will be the health of Darrelle Revis as he is the answer as to determine how good this defense can be. But it will be guys like Johnthan Banks and Eric Wright, playing second and third corner, to slow down those receivers. They have to go against guys in a division with Drew Brees and Matt Ryan who can air it out.

LaDainian Tomlinson: Look, they went from having no Pro Bowlers to two [Dashon Goldson and Revis]. But I like Mark Barron, too. I think he can be a future Pro Bowler. So I am going to go out on a limb and say this secondary will be top-five in pass defense. I know they play in a tough division but I think this will be a strength for their team.
In case none of Joe's readers picked up on Tomlinson's musings, how quickly he forgot Ronde Barber, eh?
Believe it or not, Joe sides with both Tomlinson and Sharper. The key to how great this secondary can be is Revis. If he returns to form from a ACL knee surgery, there is no reason to believe the Bucs cannot have the best secondary in the NFL.
But Tomlinson is also correct. The Bucs, as criminally awful as the pass defense was last year, could have three Pro Bowlers if Barron has a solid season. Barring an epidemic of injuries, there is no way the Bucs should repeat last year's horror show with the talent on the roster, even if Matty Ice and Brees are slinging footballs against the Bucs over four games.