Why Ronde Barber Is A Hall Of Famer
May 10th, 2013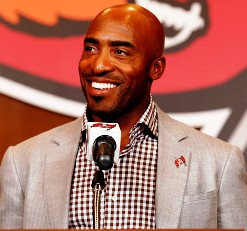 Yes, yesterday was a bittersweet day for Joe. He didn't want to see Ronde Barber leave the game. Who did?
But Barber left the game in a classy way and with all his body parts intact. That was the way to do it. The Bucs still wanted him back. But Barber wasn't sure his 38-year old body could get ready for one more year of pounding.
Most sensible people agree that someday Barber will be in the Pro Football Hall of Fame. The real question is when? Tampa Bay electronic media czar J.P. Peterson makes a compelling case for Barber's induction sooner rather than later on TampaBaySportsCentral.com.
The ONLY corner with 25+ sacks and 45+ interceptions meaning…he could beat 300 pound tackles or shifty backs on a blitz then on the next play cover a number one receiver lined up in the slot or outside? He finished with 28 Sacks and 48 picks, which in the days of specialization and shorter careers is a stat that may never be approached…let alone broken.

His most important and telling stat to me is his 1,423 tackles (Tackles are a very much disputed stat as official post game film study counts often can change a 5 tackle game into a 13 tackle game). But by most comparison measures Ronde' is the top tackling corner by over 300 tackles! Consider Deion Sanders, a Hall of Fame corner only had 492…in his career! We can talk about flash and big plays all we want (and we will) but still basic tackling is the foundation of defensive football. Ronde's superior instincts, intelligence and dogged film study not only put him in position to make game changing plays but also put him in position to make the Blue Collar plays that are the foundation of solid Tampa 2 defense. Keeping the 2 yard gains from becoming 8 or 80 yard plays.

These numbers prove his incredible versatility. But watching every one of his approximately 16,500 plays I've seen him take on 270 pound Brandon Jacobs in full stride. It didn't end well but he got him down! I've seen him hold his own 1 on 1 with Magatron Calvin Johnson, Julio Jones, Marcus Colston…guys that are almost a foot taller…and compete for jump balls. He didn't always make the play but more often than not he did. He has unselfishly played special teams over the years blocking punts and returning them for scores. The fact is…you can't find players in this league who can do all those things or are even willing to do all those things.
Of course, as Joe wrote earlier, he believes Barber gets in. It may not be for a few years, though. There aren't that many cornerbacks in the Hall of Fame, and if you list some of the players that will be eligible for the first year along with Barber, wow. Leading the list is Ray Lewis along with Randy Moss, Donald Driver, and perhaps Brian Urlacher and/or Charles Woodson. That's not to mention worthy players who did not get in on their first at-bat.
Now the numbskulls out there who claim Barber was a system player thus not worthy of induction, Joe has no time for fools. Virtually every player is a system player.
Would Joe Montana have been a Hall of Fame quarterback had he been drafted by a ground-and-pound team? Would Dan Fouts have been a Hall of Fame quarterback if he played for Bill Walsh or a coach who believed in throwing the ball deep? What would have happened if Lawrence Taylor was drafted by a team that used a 43 defense? What would have ever happened to Kellen Winslow if he played for a run-oriented team that required blocking by a tight end?
Barber is a Hall of Famer. It's really that simple.