Sapp Wants Western Exposure At 50 Yard Line
May 1st, 2013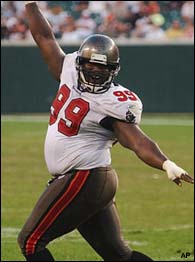 Of course Warren Sapp has a strong opinion on not only why he belongs in the Bucs' Ring of Honor but where his plaque/banner should hang.
Did you expect anything less?
Tampa Bay Times scribe Rick Stroud talked all things Ring of Honor with Sapp and unearthed No. 99's special request.
"Selmon was the first member of the Bucs' Ring of Honor at RJS and has been joined by former head coach John McKay, tight end Jimmie Giles and left tackle Paul Gruber.

All those names are adorned to the east side of the stadium. Sapp said he would love for his to be the first name on the west side of RJS.

"You're going to get me to stir things up, but I'd love to be at the 50 yard and the first one the west side (of the stadium)," Sapp said. "That's where my mom always sat. And the teams that come into play us will be staring right at it. They'll be looking dead at it and they'll know the Bucs are coming right at you."
Joe wonders whether Team Glazer will honor Sapp's wishes and award Sapp his own place on the west side of the Dale Mabry Bowl. It is a little selfish of Sapp to want to separate himself from the other Bucs greats.
And we know how Sapp abhors a me-first attitude, considering he recently described new Bucs stud cornerback Darrelle Revis as  "selfish" and "never been a team player."