Rookie Minicamp Notes
May 4th, 2013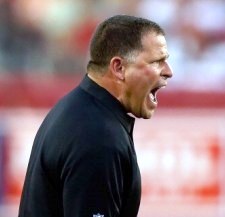 Today's practice was somewhat nondescript for people just watching the drills. There was little if any scrimmaging, short of pass-rushing drills (where William Gholston announced his arrival in a physical way).
It is very difficult to judge players when most drills amount to footwork, and engaging tackling dummies and blocking pads.
Roughly about halfway through practice, Joe heard the famliar cry, "Toes on the line!" when the players were involved in running. Overall, Schiano has been eager but not hyper, not much hollering. That could be a good sign.
Yesterday, Schiano was briskly jogging from practice field to practice field and occasionally offered input. Today, Schiano seemed a bit more relaxed, walking between practice fields and doing more observing than barking any orders.
The one highlight that jumped out at Joe was defensive end Steven Means. Means ran at a blocker who held a dummy. Means absolutely blew past the blocker, using a quick and smooth swim move so well-executed that Joe isn't sure the blocker touched Means with the dummy. (This was a different drill from the one that saw William Gholston sack a coach.)
One order from assistants Joe often heard was the phrase, "follow through," meaning keep playing. In offensive drills, this means if a running back got past the defense, he was to keep sprinting to score, say, an 80-yard touchdown.
On a couple of plays, Joe noticed wide receivers/running backs pulling up before they got to the goal line and jogging back to join their teammates.
Joe is sure this will be pointed out by Schiano after he looks at tape of the practice. Such moves are not what makes a Buccaneer Man.