Mike Williams Nearing Contract Extension?
May 10th, 2013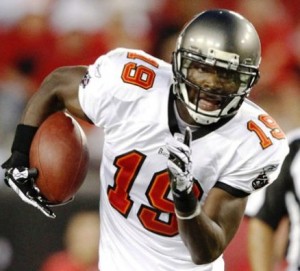 Joe breaks up the momentary feel-goods remembering Bucs cornerback Ronde Barber for a bit of good news. Joe knows Bucs rock star general manager Mark Dominik has discussed getting an extension done for wide receiver Mike Williams.
Well, on face value, it seems contract talks between the Bucs and Williams' agent(s) are getting closer, or are at least heating up, based on a Twitter from Woody Cummings of The Tampa Tribune.
@RCummingsTBO: The Bucs and the agent for WR Mike Williams will begin a new round of contract talks in Tampa on Monday.
Joe seems gets the idea that contract negotiations have at least moved to the next stage, if not heading down the stretch. It is rare for an agent to just show up at the doorstep of an NFL team just to discuss parameters of a new deal. Why waste the time and money to travel to Tampa for that? That can be easily done over the phone or via e-mail.
Unless, of course, Williams' representatives are vacationing in Tampa already.
However, Joe has been told by a suit who works at One Buc Palace Williams' contract negotiations are in the very early stages, the beginning stages.