Mark Dominik Speaks
May 6th, 2013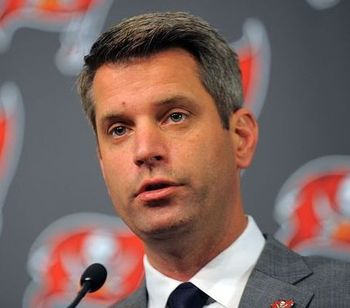 Last week, just before rookie minicamp got going, Bucs rock star general manager Mark Dominik dropped a phone call on Pat Kirwan and Tim Ryan, co-hosts of "Movin' the Chains," heard exclusively on SiriusXM NFL Radio to talk all things Bucs. Naturally, Joe recorded the show (thanks to a tip from a loyal JoeBucsFan.com reader as Joe was busy with Warren Sapp news at One Buc Palace and missed the interview originally) so he could type it later.
What, you expect something different from Joe?
Tim Ryan: He is the general manager of the Tampa Bay Buccaneers, Mark Dominik joining us on the program, hey Mark.
Mark Dominik: Tim, Pat how are you doing?
Pat Kirwan: Hey, Mark, how are you, man?
Ryan: I always appreciate you showing up and showing up on time, sort of like that haircut. Well-groomed and ready to go.
Dominik: (laughs) I appreciate that very much. I tell you, guys down here are excited. We have guys going through the locker room getting ready for rookie mini-camp. Seeing how our draft picks do and we have one of the biggest tryout camps as well. See how these young men can do in a quick weekend.
Kirwan: Let's get into that. It's a long, grueling process, trying to get everything right. Now you have the draft and now you get a chance to see if the players look like you thought they would during the research. I used to love that day: The first day the players are out there with the coaches. They are our property. Most of the time it was a great experience. Do you have any anxiety when you go out there to watch those guys for the first time under the guidance of your coaches and not the college coaches?
Dominik: You do, obviously. And you are right. It's a very exciting day when they go out there on the field and move around and do some drills and watch their footwork and their explosion and get-off and all of those things. Those are all fun things we love to watch. In the back of your mind you are watching your picks and watching to see if they perform the way you want them to comparably to the guys that are out there. A bigger day is when we get to the veteran minicamp and after [the rookies] spend a couple of weeks with the coaches, learning and see how they measure up to the veterans and see how they hold up the ropes to get themselves in positions to make plays. Yeah, tomorrow is a special day in that you really get to open up your gifts on Christmas morning. You got to pick your presents but you haven't got to touch them. Now the coaches get to touch them.
Ryan: Well, you haven't had a chance to open up the biggest gift yet and that is Darrelle Revis. Love what you did at No. 13 by moving that pick to the Jets along with at third-rounder next year. Darrelle, health=wise Mark, where is he, what is he able to do and do you guys envision him being ready to go come September.
Dominik: Yeah, we feel great about Darrelle being in this building. I tell you what: Every day being around him, you understand what has made him such a great player. Unselfish guy. Great personality. Great teammate. He's been good downstairs. He is now officially No. 24 for the Tampa Bay Buccaneers, Mark Barron has moved to No. 23. So Revis retains his number and Mark Barron is going to create his number which we like. And you know, from a health perspective he is ahead of schedule and right where we wanted to be. I think the most impressive thing about Darrelle is that he came into the big press conference with his family and everything like that, instead of heading back and getting stuff or anything, he never left our building since. He's been downstairs because it is important to him. Staying with our training staff, staying on target to come out to practice the first day and being able to line up against the Jets Week 1.
Ryan: Other than having a great teammate in Darrelle Revis, what is Barron getting for the number switch? Is he getting paid? Did you just coerce him to do that? What happened?
Dominik: We let those guys handle their business downstairs. We stay out of it. We let those two men work it out. I think part of it is Mark Barron understands that Revis spent six-plus years developing that number and shows what he has done with NIKE and Barron said it was also a chance to be a great teammate and show that he is welcoming him in here. And I think that shows the secondary is already growing close with Goldson and Barron and Revis and Eric Wright and now with Johnthan Banks, I think they will continue to grow together fast.
Kirwan: That leads me to Banks. I said this about Banks when we had to review him on the radio show, look, you can harp on his speed, you can criticize him on his speed but he has played very well his whole college career with the same speed. He has figure out how to play at a very high level with the gifts he has got. I wouldn't worry so much about it. I think the guy has an understanding of what he is and what he isn't and a guy who is going to play very effectively in the NFL. Your thoughts on him and how do you overcome the speed issue, and I would love to hear from you as I am sure you have your own idea on what you saw on tape.
Dominik: I would say the main thing was, did it show up? You know that from your years in scouting. What does the tape say? Thing that you say when you step back from this draft class and just really from the league in general, 25 percent of this draft class came from the SEC. These are the same players that Banks has lined up against the past four years. The players that are playing in the National Football League, a lot are coming from the SEC. He is lining up against some of the best receivers on the college level for four straight years. He has done it. Then you watch the tape, he has the quickness, he has the feet that you look for and really need to have. He has anticipation and instincts that make a great corner. Look, if we were all caught up on 40 times back in 1997 when Ronde Barber came out, then Ronde Barber probably wouldn't have been a Buccaneer. Instead at the time, Jerry Angelo, Rich McKay, Tim Ruskell made a smart selection for this organization and the guy hasn't missed a game since. You know, you have to look at all of the big picture and Banks has the important elements that we think will make a great corner.
Ryan: Is there still a spot for Ronde Barber, Mark, if he wants it? Take us through that conversation.
Dominik: There is. I have to say I haven't spoken to Ronde since after the draft, but there is. It is his decision. It is his choice. We are leaving it there for him. If he wants to come back there is absolutely a spot for him and a spot for him the rest of the season.
Ryan: Man, I tell you, your secondary looks so much better, not just on paper but on the field going into 2013 season. When I look at your third round selection Mike Glennon, the quarterback out of NC State, it tells me that with Damontre Moore and other pass rushers still on the board, you guys must feel really good about Adrian Clayborn coming back and Da'Quan Bowers and some of the other guys you have rushing the passer. Talk about your d-line.
Dominik: Yeah, that's one thing we did address in the draft. I think we stayed true to the board. I think that a lot of people will say in the third round a lot of people did have Mike Glennon rated on our draft board and we also felt there was a need in our organization to draft him so that is why we pulled the trigger on a really young, we think is an ascending young quarterback, a guy with a lot of potential in front of him. A guy with a big arm and can throw the ball down the field and can throw off of play action, a guy who played for some great coaches who coached some great pros at that level. And then the first selection of the third day of the draft we went aggressive on the defensive line, we selected three guys on the defensive line. Gholston from Michigan State and we traded up to get Akeem Spence to be our nose tackle and took a young man from University of Buffalo, Steven Means who has a lot of traits to be an interesting pass rusher at the next level?
Ryan: Where is Da'Quan health-wise and how is Adrian Clayborn coming off of his injury?
Dominik: Very fair questions. Da'Quan is great. Everything is fine. He had the unfortunate injury last season but everything is good this offseason. He is ready to go and Adrian is well ahead of schedule. He has been outside running around. He has not been cutting as much because we don't need to as much as he would like to. There is no need to force it. Both of those guys are ready to rock and roll Week 1 against the Jets.
Kirwan: Mark, I have heard different views on how they are handling their quarterback situation. I've heard everything from it is an open competition to its this guy's team. Define yours for us. I am assuming it is Josh's football team and then I'd like to know how many quarterbacks you think you will keep on the roster.
Dominik: I would say that it is Josh's football team. Again, he set a lot of Buccaneer records for us last year and he is a good quarterback who got a lot of experience that we are excited about and will continue to == you know, I am excited about having Carl Nicks and Davin Joseph in front of him…
Ryan: Yes!
Dominik: … so that Josh will continue to feel comfortable back in that pocket so he can make more plays. So it is his football team and I am excited to have him on this football team and have him be the leader on that side of the ball. Quarterback-wise? Could we keep three or four? We could keep as many as four. Some teams kept two. We kept two and had one on the practice squad. This year with the addition of Mike Glennon and I like Dan Orlovsky as a true veteran leader and we have a kid with some potential in Adam Weber so we will see who plays in the preseason as well. We will take four to camp and see how it plays out from there.
Ryan: Mark, what is it with Josh Freeman because one week, he looks great and the next week, not so good. He certainly has the skill sets. Is it just about, obviously winning games, or is it about consistency with him?
Dominik: Yeah, I think that is what we all want. Again, I agree with what you are saying Tim. There is a consistency you want. For about six to eight weeks, he showed it. That is one thing we have to remind ourselves of. It's not just the negatives, but consistency yeah. He did play at a premiere level in this league. I am still, we are still very optimistic in Josh's future, and that is why we make sure to surround him with guys not only the offensive line and keep that intact but going out in free agency and pulling a Kevin Olgetree or a Steve Smith to continue to get more weapons for Josh but to keep him clean up front in that pocket.
Kirwan: We asked Ron Rivera this and we will ask Coach Belichick the same later, about the draft, you didn't have that many picks, you had six if I count them up right here. That makes to me, with short picks or even with the standard seven, the undrafted class becomes critical and there is an opportunity for at least, maybe one or two or three guys to make the football team. How did you feel about the college free agent pool after the draft, Mark?
Dominik: We thought it was fairly strong. There were some spots that looked like there was some good ability to it. Guards and centers we felt really good about that. And at corner, we still pulled out a couple of guys we felt excited about.
Kirwan: You have a lot of cap space. You are using it prudently. Actually, I think it is coming along quite nicely. Yet, when I look at the league you are in a very good spot. I'm interested to know – you don't have to tell me any names – if you will be active in free agency? Are you actively shopping or do you like the 90 that you now have? Are you still hunting for guys?
Dominik: We are always a little bit in the hunt. As you know, you are always looking for a way to improve your roster. Do I see a big signing in our future? I don't see that. Our team is pretty excited about where we are at. Again, let's see if these young guys can keep going. We want to see [Tom] Crabtree more. We want to see Banks. We want to see [Jonathon] Casillas work, who we picked up in the offseason. A Keith Tandy who we drafted last year. Guys with ability that are still developing. That is what is exciting. We stocked this team with some veterans like Brian Leonard who I think brings a lot to this team. A guy like Derek Landri who has been in the trenches a long time and can play tilted nose for us…
Ryan: Don't let the bad body fool you, Landri can play.
Dominik: … No doubt about it and we are excited for him. He can fill in different roles for us, be active each Sunday and play a lot. If he is a starter or a backup, we know he can play. It may not be glory work but he can help the whole team produce at a high level. We feel good about where the 90 is headed right now. We are 90 strong and if we don't do anything else, we are happy with this group.
Ryan: Hey Mark, last one for me and I am going to predict something here, you can agree – I am sure you are not into predictions – or disagree. I see more sacks in 16 games for Gerald McCoy this year than I have seen in his whole career. When you talk about ball-screening guys behind him in terms of coverage guys, it all works together. As I said since I was a college player. I used to turn around and say to Mark Carrier: "Pressure pick/coverage sack. I get the pressure, you get the pick; you get the coverage, I get the sack." McCoy is going to get double-digit sacks for you this year, you watch.
Dominik: Well, again, he is continuing to develop as well going into Year Four. He had two unfortunate injuries his first two years and finally got to play a full season last year. Still, there is a lot more coming with Gerald and again, having Landri or Spence next to him, obviously having a healthy Bowers and a healthy Clayborn, he's never had those on the field at the same time, really. And so all of those things coming together finally, then with the backend with Revis and Eric Wright and Johnthan Banks and the two big safeties behind them. The play of Lavonte David and Mason Foster we like. We've had a guy who has been around for three years Dekoda Watson who will do everything he can to be the SAM linebacker. We are excited about the group. We have a long way to go, this is just the start of the offseason program but I know our coaches are working hard to get the most out of each guy and we will be ready to go for training camp, Week One.
Ryan: I don't care where he is right now, Schiano has the whistle in his mouth.
Dominik: (laughs) He probably does. He is pacing somewhere in this building to make sure things are getting done the right way. That is why he is a good football coach.
Kirwan: Mark, go ahead and enjoy what's left of the spring preparation for training camp and we will see you for sure on the camp tour.
Dominik: Thanks guys.