Josh Freeman No. 10
May 21st, 2013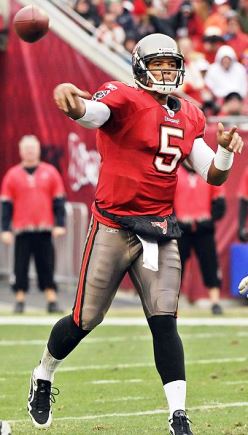 Yes, Bucs quarterback Josh Freeman continues to make news, even in the nondescript periods of OTAs.
Yesterday, NFL.com began a daily series of top quarterbacks under 25 and, as Gregg Rosenthal writes, Freeman is No. 10 in what Joe feels is a pretty thorough, and fair examination (the link has several Freeman videos).
Too often the Buccaneers dialed up the right play, got the coverage they were hoping for and the play wasn't made. Routine throws were missed. Red zone tosses often didn't give the receiver a chance. Freeman's accuracy came and went, and I didn't see Freeman anticipate or go to his second read enough.

Occasionally, Freeman didn't see the open man, but it's been more common to see him just a beat late on a throw like on the play below. Often, the timing was just off. Freeman sometimes would think a receiver was going to sit down on a route, but a miscommunication happened.

Freeman's first-round talent has shown up in his four NFL seasons. He owns every tool you look for in a quarterback; he just hasn't shown the ability to do it consistently. He's shown enough that there's hope Freeman can be a top-10 NFL quarterback for a team that regularly contends for the playoffs and Super Bowl. He has that type of skill set.
Now, maybe the last time for a few days, Joe will touch upon Schiano's recent comments to NationalFootballPost.com about Mike Glennon potentially starting.
Schiano said something Monday, in his animated if not entertaining press conference after the first practice of OTAs, that maybe he is too much of a straight shooter with national reporters and, with a twinkle in his eyes, said, "Josh knows how I feel… and so does Mike Glennon. … It's May. We have to write about something. There needs to be news."
Bravo, coach. Bravo!