Jonathan Casillas A Step Ahead From 2012
May 21st, 2013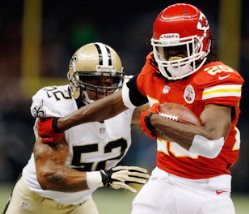 When Bucs rock star general manager Mark Dominik signed free agent strongside linebacker Jonathan Casillas, there were various ways to look at the move.
Casillas could be just part of what Bucs coach Greg Schiano craves — competition. Or, Casillas could be the successor to Quincy Black.
Either way for Casillas, he's ahead of where he has been in recent seasons, even if the Buccaneer Way is still a bit foreign too him. Last year ,Casillas was injured and unable to go to through OTAs with the Saints.
"It does help a lot," Casillas told Joe just after OTA practice Monday. "It's kind of a rare thing for me to be healthy at this time of the year. Good to be out there running around with the fellas and not so much the physical things but the mental things as well."
Casillas was, in a way, a victim of circumstance. The Saints brought in overrated Rob Ryan as their new defensive coordinator, and Ryan is a 34 defense kinda guy. Casillas is a 43 outside linebacker kind of guy. So he was a man without a team when Ryan arrived in The Big Easy.
Currently, Casillas seems to just be happy competing on a practice field in May for a change.
It's good man, good to get the juices flowing," Casillas said. "It's good to finally come out here and compete."
Though Schiano's practices are conducted with a sense of urgency, Casillas believed Sean Payton's practices were even more so.
"It's not as intense as Payton's but the point is there, the purpose is there, the intent is there," Casillas said. "We got after it really fast. The layout is something I have to get used to. Just out here trying to get my terminology down and learn this defense."
It's still way too early to determine who may have the inside track at replacing Black. That is what preseason is for. While he has the chance however, Casillas is trying to make an impression upon Bucs coaches.
"We have a great group of guys on both sides of the ball and the defensive guys are very fiery," Casillas said. "We have a lot of guys with speed and power. We are all competitors, we are all competing. That linebackers room is very competitive."