"It Was Some Bad Football"
May 3rd, 2013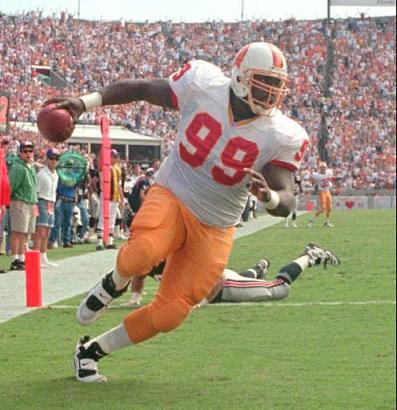 Throughout the weekend, Joe will bring snippets of the many, many, many stories Bucs great Warren Sapp shared Thursday with the Bucs pen and mic club about his career.
On what it was like his first few weeks in Tampa Bay:
"Barren. Real bad time. You have to understand, I am leaving Miami where I just lost five games in four years and I get to a place that has had 11 consecutive double-digit-loss seasons and it was a lie that sent me there. Trust me, there was not a good taste in my mouth. My brother is in the back like, 'Yeah, we are going to Tampa!" And I'm like, 'You mother… '
"I walk in there with Sam Wyche and his three ring circus and we go five-dash-two and then promptly go two-dash-seven. It was some bad football being played here.
"We slowly went about the process with Tony Dungy building something special. It didn't matter we had a little wood shed. It was our wood shed."