Is Cody Grimm An Endangered Species?
May 11th, 2013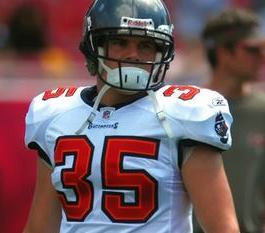 Joe knows there are quite a few Cody Grimm fans out there. What's not to like? The guy is a hard worker and a helluva tackler.
That is, when he can play.
Grimm has logged more games on the sidelines than he has one the field, most of his injuries have been leg injuries, which do not help a guy who isn't exactly fleet of feet.
This led to a Bucs fan asking about the job security of Grimm on a recent NFC South chat with ESPN.
jeff (upstate NY)

With the upgrades the Bucs made in the secondary this offseason, have we seen the last of Cody Grimm and Leonard Johnson in Tampa? I think both those guys could be pretty good if given more playing time…

Pat Yasinskas

Grimm took a pay cut just to stay with them. I'd say he's a long shot. I think Johnson has a chance to stick as a fourth or fifth CB and special-teams guy.
Joe is of the mind Grimm's status is on razor thin ice. It's nothing against him; injuries and an upgrade to the roster have painted Grimm in an unfortunate corner.
But there is something else that is very telling to Joe about Grimm's chances of remaining with the squad.
Bucs rock star general manager Mark Dominik is fantastic on radio, but with a drawback. Dominik has a nasty habit of rattling off the complete roster of players at a certain position, which to radio producers is enough to hit the dump button. Nobody in the listening audience outside of family members gives a damn about a third- or fourth-string player and it often results in listeners bailing on said interview quickly.
Dominik, on SiriusXM NFL Radio recently, even worked in an Adam Weber reference, which nearly caused Joe to fall out of his chair.
Joe has heard Dominik mention backup safeties Ahmad Black and Keith Tandy lately but not Grimm.
That right there should tell Bucs fans something.