"He Is A Guy I Am Proud To Play For"
May 20th, 2013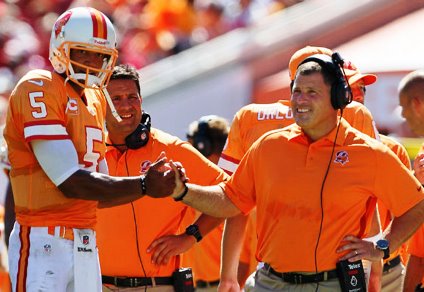 Just as Bucs coach Greg Schiano was determined to knock off all the quarterback controversy talk this afternoon after the Bucs' first OTA practice of the calendar year, so too was Bucs quarterback Josh Freeman determined to dismiss the notion that he and Schiano don't get along.
As he was mobbed on the practice fields of One Buc Palace on his way to the locker room, Freeman noted that instead of clashing with Schiano, the two have developed a close bond.
"Me and coach have a great relationship," Schiano said. "I go up there [to Schiano's office] at least every week and sit down and talk about football, talk about the team, talk about life. I've gotten to know Coach Schiano real well. He is a guy I am proud to play for."
Freeman also waved off talk that third-round pick Mike Glennon may unseat him as the Bucs starting signal-caller.
"You want the best possible option behind you," Freeman said of Glennon. "Mike completely fits. Down the road if we are making a run and something happens to me, you want a guy who can come in and keep it going. I am excited about [having] Mike, glad to have him about. Ready to get this rolling."