Cody Grimm Arrested For Public Intoxication
May 28th, 2013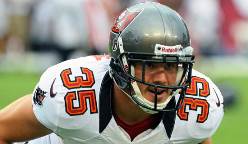 Bucs reserve safety/special teams player Cody Grimm was popped for public intoxication over the holiday weekend, per a report by "Reliable Source" of the Washington Post.
(How the hell can one of the most respected papers in America pull a stunt like this with a fake byline on a serious news story? What the hell???)
We're told that the 26-year-old Fairfax native, once a gridiron standout at Oakton High, was back in the area for a wedding. Town police said the arrest happened at a Hampton Inn at 5:30 a.m. Court records show that Grimm has a hearing scheduled for July 9.

The charge is a misdemeanor — but for Grimm, the matter could be complicated by a previous public intoxication arrest, on March 10 in Christiansburg, Va. That case, records show, was given a "deferred disposition," which allows prosecutors to drop a charge if assuming the accused fulfills certain promises and stays out of trouble.

Grimm, the son of 1980s Redskins star Russ Grimm, did not reply to voice messages or e-mails. In a statement, Buccaneers head coach Greg Schiano said the team was "disappointed" to learn of the arrest: "Our players know our expectations on and off the field and we take these matters very seriously. When we feel we have obtained all the necessary information, we will act accordingly."
Wow, 5:30 a.m.? Must have been a helluva wedding party.
Joe's not sure how someone can get a "public intoxication" citation twice in a matter of weeks. That's not a good pattern.
UPDATE: Via the Bucs' media relations department, Bucs coach Greg Schiano has issued a statement on Grimm's arrests.
"We are disappointed to learn of this situation. Our players know our expectations on and off the field and we take these matters very seriously. When we feel we have obtained all the necessary information, we will act accordingly."