Bucs Secondary From Woeful To Feared
May 13th, 2013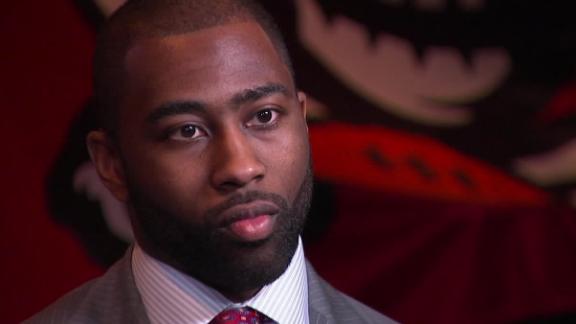 Joe can't begin to explain the acid reflux he suffered on football Sunday nights last year after having nightmares of the Bucs secondary.
How rotten was the second-worst pass defense in NFL history? The Family Resource Council petitioned the FCC to remove Bucs games from broadcast television fearing the long-term damage to childrens' mental health after viewing two games.
But Bucs rock star general manager Mark Dominik went to work, and in some people's eyes, has turned the NFL's worst secondary into perhaps the best in a matter of weeks.
In a well-detailed article on NFL.com, Bucky Brooks breaks down just how well the Bucs secondary should play, and why they will be so improved, and not just because they added a name cornerback and drafted a corner in the second round.
Of course, the lynch-pin to the flexibility and makeover of the Bucs secondary is Darrelle Revis.
Having studied Revis' game throughout the years, I've been most impressed with his versatility, technique and instincts. Revis is a rare commodity at the position, possessing the size and strength to match up with big-bodied receivers on the perimeter while also boasting the quickness and burst to run with speedsters. Most importantly, he is a technically sound player with the capacity to play man or zone utilizing a variety of techniques.

From mugging receivers in press coverage at the line of scrimmage to keying the three-step drop while adhering to hash-split rules — cornerbacks will anticipate routes from receivers based on their alignment and the location of the ball on the field — Revis' mastery of the fundamentals allows him to thrive in any scheme. This gives the defensive play-caller ultimate flexibility in the game plan, allowing him to diversify coverages to take away the strengths of the opponent's personnel.

Now, Revis might not return to All-Pro form immediately following a lengthy rehab from a torn ACL, but that shouldn't deter the Buccaneers from building packages around his immense talent. When healthy, he has repeatedly demonstrated the ability to take on the opponent's No. 1 receiver with little assistance from a safety over the top. This could encourage the Buccaneers to utilize more "quarters" coverage concepts, with Revis playing as the field corner.
In Brooks' piece, you can find out why Revis is so important, not just to add talent, but he makes players around him better.
For example, with Revis (if healthy) the Bucs can roll coverage of the safeties to help out either Eric Wright or Johnthan Banks because Revis can handle so much real estate himself. It's almost like having a third cornerback on the field, Revis can be that good.
If Brooks' observations and studies come true, Joe can look forward to a solid night's rest on Sundays this fall without having to eat TUMS like M&Ms.