Are There Words Behind Greg Schiano's Words?
May 22nd, 2013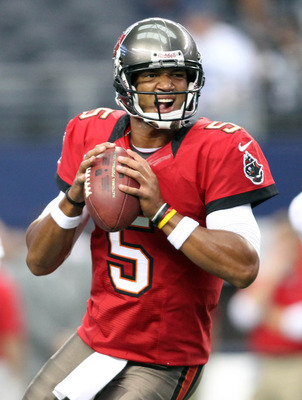 Now when Greg Schiano said after the end of last season that he wanted competition at quarterback, he wasn't lying. Schiano wants competition at all positions. The cliché "a rising tide lifts all boats" applies.
In Schiano's mind, better competition — read: depth — makes for a better team. Guys on the second string want to play and by busting their tail, they put the fear of God in the minds of the suddenly-motivated starters. It's a snowball effect.
Alan Dell doesn't totally buy it. The Bradenton Herald columnist believes both Schiano's words and actions are a signal to Freeman that he better be renting.
Even if Freeman has a great year next season and the Glazers throw a ton of money at him, there is no guarantee he's Schiano's guy.

They are friends and both said they talk about many things, including life off the field. That's warm and fuzzy, but it has nothing to do with whether Schiano believes he is the best guy to lead his offense.

This is a fickle love affair that is a few interceptions away from imploding.
Dell sort of hits the nail on the head with a curveball not necessarily meant for the nail.
If Freeman has an All-Pro year, tosses 30 touchdowns with scant interceptions and the Bucs make it to the postseason if not win January games, does anyone really believe Freeman won't suddenly be Schiano's guy?
And if Freeman has a monster year, does anyone really believe Bucs rock star general manager Mark Dominik will let Freeman walk? He'd franchise him before he'd let him sign with another team.
What all of this means is, very simply, Freeman's future is up to Freeman. Nothing more and nothing less.