What Makes William Gholston Tick?
April 30th, 2013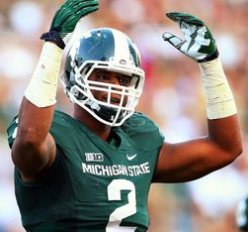 When Joe learned the Bucs drafted Michigan State defensive end Will Gholston, let's say Joe was intrigued. The guy is built like an Adonis and images of Simeon Rice began dancing in Joe's head.
Then Joe began researching Gholston. How, with a beastly body like his, did he get such poor numbers against garbage Big Ten teams (Joe's a Big Ten guy, grew up with the Big Ten and never in his life has he seen the conference so miserable. The MAC may have been better in 2012!)?.
It seems Gholston's play fell off after a promising 2011.
Then Joe found this video of Gholston and was blown away by his personality. What's going on here? Something wasn't adding up.
So Joe turned to Jim Miller.
Many of you know Miller, a former Bears and Steelers quarterback, as the unofficial 12th man of SiriusXM NFL Radio. He is always substituting for someone, morning, noon, afternoon or night. Joe half-expects to turn SiriusXM NFL Radio at 3 a.m. and hear Miller.
But the reason to reach out to Miller is that Miller, a Michigan State product himself, is the color analyst for the Michigan State football radio broadcasts. If anyone knows Gholston, it would be Miller.
Per Miller, Gholston came from a rotten upbringing and Miller believes Gholston is still coping from a nightmarish childhood.
"I think he is a real good kid," Miller said. "He comes from a really rough background [in Detroit]."
Miller noted that as a child Gholston was passed from one relative's home to another relative's home and endured homelessness at times.
"At one point he lived out of a car," Miller said.
But football, Miller said, specifically his high school football coach, Donshell English, turned Gholston's life around where he was able to attend Michigan State on a football scholarship after being named Michigan's top high school football player.
After his senior season in 2010, Gholston played in the Under Armour High School All-America Game in St. Petersburg.
"At times, he is tremendous," Miller said of the Spartans defensive end. "At other times, he struggles. I think it is because he is still growing as an individual."
Then there was an incident in 2011, when Gholston was suspended by the Big Ten for an incident in the annual Michigan State-Michigan game for swinging at Michigan offensive lineman Taylor Lewan. There was much more to it than that, Miller said.
The two were in a near street brawl at every snap, Miller noted.
"Out of 70 snaps, 35 of them Lewan could have been called for illegal hands to the face," Miller said. "I am sure they were [verbally] going back and forth [all game] and that is when it crossed the line."
The line crossed was Lewan dropping  a racial slur on Gholston who responded with a punch and was pulled from the game for one play and later suspended by the Big Ten Conference for a game. Greg Johnson of The Grand Rapids Press, who covered that game for MLive.com, documented the incident.
Gholston was penalized for two personal-foul penalties in Saturday's 28-14 win over Michigan, one after pulling on U-M quarterback Denard Robinson's facemask and one after punching U-M lineman Taylor Lewan. The punch came after Lewan dragged Gholston to the ground by his facemask.
In a release from Michigan State following the incident, Gholston said, "Although provoked, my response was inappropriate."
Miller said Michigan State coach Mark Dantonio, a disciplinarian of the highest order, only pulled Gholston out of the game for one play following his punch to Lewan, which seems to suggest Dantonio didn't much blame Gholston for retaliating after having a racial slur dropped on him, in addition to being slammed to the turf by the facemask.
Upon his return, in the next two games, at Nebraska and home against Minnesota, Miller said Gholston played like a man possessed.
"He made 32 legitimate tackles in the next two weeks," Miller said. "He was all over the field."
As for Gholston's lackluster, uneven 2012 season, Miller chalked that up to Gholston still growing up, and being distracted by the brighter lights (and big money?) of the NFL.
"He may have had some 'agentitis' in the ear," Miller said.
Despite not dominating like Miller and other Sparty partisans believed he would last year, Miller thinks the Bucs got a steal in Gholston.
"Some people question his worth at times, but ending up with Greg Schiano, [the Bucs] will get the most of his talent," Miller said. "He has the DNA, he is an athlete, nobody denies that. He is a freak athletically, now. He is gifted with the genetics. He is very long-armed and is the prototypical defensive end in a 43 front or he could be a five-technique.
"The key is for Greg Schiano to harness that talent. He still needs to grow and mature but he can be a phenomenal, phenomenal football player. I think it is a great pickup by Tampa Bay.
"His upside is tremendous."
Hat tip to Nick Kostos.