What Is Ronde Barber Waiting On?
April 16th, 2013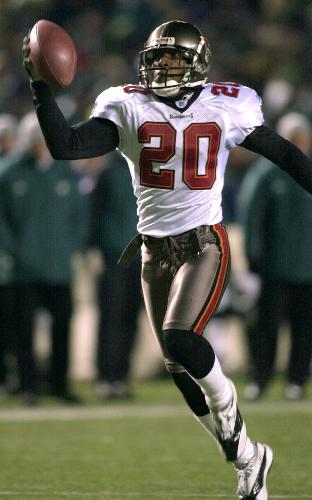 A chipper and refreshed Bucs coach Greg Schiano met the fourth estate, the local branch of the pen and mic club, for the first time yesterday since the end of the 2012 season and the first time standing before ink-stained and coiffed masses since the NFL Combine.
Not surprisingly, one of the first questions to Schiano was about Ronde Barber's status.
"No. 20 did not show up," Schiano said. "He's not under contract so he is not here. [There are] no developments which is fine. We will still keep in communication. There is no silence or anything. Just in the process of figuring it out."
Since the end of last season, Barber, Schiano and Bucs rock star general manager Mark Dominik have broken bread and discussed a potential return at least twice. Yet Barber is still out there, a free agent without a home.
When Joe asked Schiano if there was a deadline for Barber to make up his mind, Schiano stated there is no deadline in the foreseeable future.
"No, at some point I guess down the road but we are not anywhere near that now," Schiano said. "For planning purposes, down the road" there is a deadline.
Schiano did not elaborate when that deadline may be, but Joe's going to guess — just a guess — July 1. If Barber doesn't commit by that time, it gives the Bucs a chance to bring in someone off the street or via a trade to join the team by the opening of training camp.
But what is taking Barber so long to make a decision? Joe has no inside information on this but it sure seems like Barber is torn, understandably so.
Could it be he wants to see who Dominik brings in to bolster the cornerback unit? After that ugly loss to Philadelphia last season, Joe had never seen Barber so steamed. He was one PO'ed individual. So mad and frustrated, Barber likely questioned why he even came back.
Or is Barber getting tugged to hang it up by his wife? Look, Barber has played relatively injury-free, sans a broken arm after the 2011 season. His knees are intact, he claims he's never had a concussion. In short, for playing so long in the NFL, he is in remarkable condition. Perhaps his wife is telling him to get out while he's ahead of the game? He's dodged the bullet so many times, maybe he shouldn't press his luck.
Joe thinks it is cool that given what Barber has meant to this organization, Dominik and Schiano are allowing Barber so much time to make what Joe is sure will be a difficult and potentially emotional call.