Unlikely, But Bucs Could Tab Tackle At No. 13
April 11th, 2013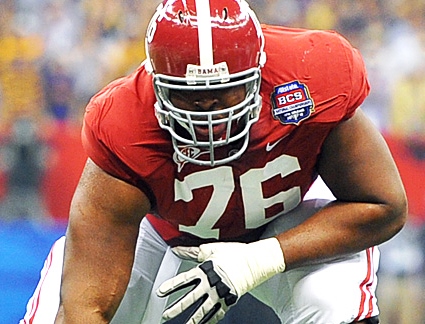 Sometimes, Joe likes to mock the mockers. Depending on who you trust and who you believe,  Bucs' selection with the No. 13 pick, if they pick at No. 13, is all over the map.
Joe has noticed that veteran NFL player personnel man Gil Brandt has not wavered one iota on who he thinks the Bucs will pick in the first round. That would be Alabama offensive tackle D.J. Fluker.
Now there are many eyebrows raised at picking Fluker in the first round. First, that would not address the many holes on defense, gaping holes.
There's also the financial aspect to look at picking Fluker. Clearly if the Bucs select Fluker, he would play right tackle. Rarely are tackles drafted high in the first round to play right tackle (unless your franchise quarterback is left-handed).
If Fluker is drafted, Joe would take a stab and say that Fluker will eventually be groomed to replace incumbent left tackle Donald Penn down the road.
And if the Bucs do draft Fluker, Joe thinks it would be time to put to rest the notion that Bucs quarterback Josh Freeman needs more toys.