The Legend Of Joel Buchsbaum
April 25th, 2013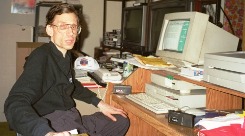 (This is a repost of a previously published article Joe will use as an annual tradition for the morning of the first day of the NFL draft.)
Joe's going to go slightly personal here, a rare, albeit tiny window into Joe's background on this holiest of high football holidays.
Joe got hooked on the draft as a kid from an alien-like voice that floated through the night air from a city Joe finally visited for the first time last fall.
Growing up as a kid, there were two people who turned Joe into the football freak he is today. One was Joe's high school football coach, a guy who played for a virtual who's who of football coaches: John Madden, Tom Landry, Gene Stallings and Lou Holtz. It kills Joe how much he has forgotten about football from a man unknown by 99.99999 percent of the populace. Joe remembers covering his first NFL training camp warmly. There, grizzled Stallings was head coach and vividly remembered Joe's high school coach playing for him. After learning Joe played for one of his proteges, Stallings treated Joe like one of his family members.
The second source fueling Joe's unwavering football fetish originated from an unlikely location: a Brooklyn apartment.
Joe first heard of Joel Buchsbaum on a blowtorch radio station out of St. Louis, KMOX. There, each Monday night (only prior to Monday Night Football broadcasts), and Sunday nights (during baseball season), Buchsbaum, the original draftnik, would talk to strangers throughout the Midwest, giving listeners knowledge on college football players and the NFL that to this day, Joe finds unmatched — not even by Mike Mayock, not even by Mel Kiper, not even by Pat Kirwan.
People would call the show and ask Buchsbaum about (pick a player), and often before the caller finished his question, Buchsbaum would interrupt and begin rattling off the talents of said player.
Pleasantries were not a forte of Buchsbaum. He was not rude, not even close, but he was very short and impatient with rambling callers.
To this day Joe remembers some guy asking Buchsbaum about (name of the player long ago forgotten), who the caller claimed was a starting cornerback at Utah. Buchsbaum, in his nasally, thick Brooklyn accent, corrected the caller almost immediately. No, the player is not from Utah, Buchsbaum said, but from Utah State. And in fact he was a backup cornerback.
This did not stop Buchsbaum from launching into why the player was not starting and why coaches thought he had some promise.
Mind you this was long before the days of laptops so Buchsbaum couldn't have Googled the player's name in five seconds to pull up his information.
It was unreal what this guy knew. And in Joe's circle of fellow football friends, guys who rarely if ever listened to an AM station, Buchsbaum had their attention. He was like the Rain Man.
Fast forward maybe 15 years and the Sporting News decided to find out who was the best draftnik. They researched Buchsbaum, Mel Kiper and a third guy Joe had not heard of before and still can't remember. The Sporting News broke down each man's final mock draft through four rounds for three consecutive years.
Buchsbaum won not only the race but he had more correct picks each year.
Buchsbaum, a recluse, died 11 years ago. In a perverted way Joe was jealous of the guy. All he did was study football, read football, write football, talk football and work his many NFL inside sources, which included at the top of the list, Bill Belicheat, who tried to hire Buchsbaum but was spurned with each offer.
So as Day 1 of the draft is here, and in a few hours or so we find out if the Bucs trade back into the first round, Joe can't help but remember Buchsbaum and that unforgettable voice.
Here's a nugget from acclaimed football scribe, and a friend of Buchsbaum, John McClain of the Houston Chronicle.
Did you know Buchsbaum was on ESPN when the network first televised the draft? He looked like such a nerd. I imagine the network executives didn't like the way he looked or sounded, so they hired Mel "Ki-pa."
Chad Finn of the Boston Globe decided to dig up Buchsbaum's breakdown of Tom Brady coming out of Michigan and with the "positives," Buchsbaum nailed the analysis.
Positives: Good height to see the field. Very poised and composed. Smart and alert. Can read coverages. Good accuracy and touch. Produces in big spots and big games. Has some Brian Griese in him and is a gamer. Generally plays within himself. Team leader.

Negatives: Poor build. Very skinny and narrow. Ended the '99 season weighing 195 pounds and still looks like a rail at 211. Looks a little frail and lacks great physical stature and strength. Can get pushed down more easily than you'd like. Lacks mobility and ability to avoid the rush. Lacks a really strong arm. Can't drive the ball down the field and does not throw a really tight spiral. System-type player who can get exposed if he must ad-lib and do things on his own.

Summary: Is not what you're looking for in terms of physical stature, strength, arm strength, and mobility but he has the intangibles and production and showed great Griese-like improvement as a senior. Could make it in the right system but is not for everyone.
Urban legend is that Belicheat, one of the few friends Buchsbaum had, took a flyer on Brady based on Buchsbaum's recommendation. Belicheat since has acknowledged he would annually go over his draft board with Buchsbaum in the hours leading to the draft.
Joe will raise a bottle of beer tonight for Buchsbaum… after the draft and when Joe is finished banging out story after story.
Here and here and here are some cool stories about Buchsbaum.