Tampa Bay's Undrafted Free Agent Signings
April 28th, 2013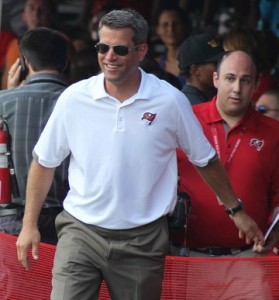 The Bucs have yet to confirm their signings of undrafted free agent college players. However, below is a list issued by the NFL.
Now Joe is not a guy to get all excited about undrafted free agents and pretend there's a superstar in the mix, although there could be.
Wyoming OL Nick Carlson
ASU CB Deveron Carr
Northern Michigan OT Jace Daniels
Pitt TE Hubie Graham
Mount Union WR Chris Denton
Temple/Boston College RB Montel Harris
USF TE Evan Landi
Miami OL Jeremy Lewis
Purdue QB Robert Marve
Northern Illinois CB Rashaan Melvin
UMass OT Nick Speller
Arizona FB Taimi Tutogi
Arkansas DE/LB Tenarius Wright
Rutgers WR Tim Wright
ASU OT Brice Schawb
Purdue RB Akrem Shavers
Georgia CB Branden Smith
Georgia Tech RB Orwin Smith
As the signings are confirmed by the Bucs, Joe will dive into the backgrounds of many of the players, talk to some at rookie minicamp, explore the organization's interest, and bring you what Joe finds interesting.