Steven Means Will Not Play Linebacker
April 28th, 2013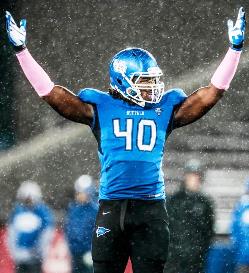 The way University of Buffalo defensive end Steve Means, who was drafted by the Bucs yesterday, is built, it sure seems he would be an outside linebacker in the NFL.
He may be, but not for the Buccaneers.
After the 2013 draft came to a close yesterday, Bucs rock star general manager Mark Dominik and coach Greg Schiano spoke about the day's drafts and both were clear: Means is staying at defensive end.
"He is going to be a defensive end where he lines up," Schiano said. "He will have an opportunity to rush the passer."
Dominik noted that he did additional research on Means and is convinced he can help the Bucs put pressure on the quarterback.
"He might be a little bit off of your radar but he was not off ours," Dominik said. "We put a lot of time on him an put in a lot of resources on him and had a private workout with him. We believe he is a developing pss rusher. We think he has tremendous traits in that ability.
"Any chance you have to get a pass rusher, you don't pass that up."