Stevens Means Means Linebacker Depth
April 27th, 2013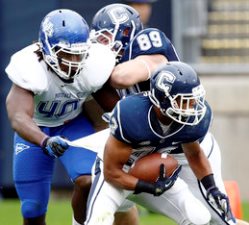 The Bucs, with their fifth round pick, have selected an outside linebacker from the football factory of the University of Buffalo, Steven Means.
Means is certainly camp meat and may mean linebacker depth, which Joe knows Bucs coach Greg Schiano wanted to add.
Means does have some speed, running a 4.6 40-yard dash. He was a defensive en,d but his size and speed better translate as an outside linebacker in the NFL. One breakdown of Means suggests he's a special teams guy.
Means is third in Buffalo history in sacks.