Schiano Talks Wright Excitement, "Being A Buc"
April 25th, 2013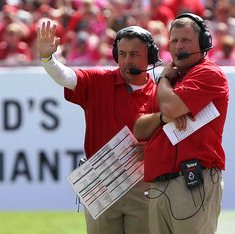 The leader of the New Schiano Order stepped out of the One Buc Palace war room this evening to talk to the dean of Tampa Bay sports radio, Steve Duemig, of WDAE-AM 620.
Schiano talked about how Darrelle Revis is the Bucs' first-round pick, how he's excited about big things from Eric Wright in 2013, and he explained what the Bucs target in the draft that doesn't show up in college game film.
"If they love the game of football, and they're willing to sacrifice for something bigger than themselves, they have a great chance of being a Buc," Schiano said.
Schiano's entire interview is below.