No "Country Club" Feelings For Sore Clayborn
April 17th, 2013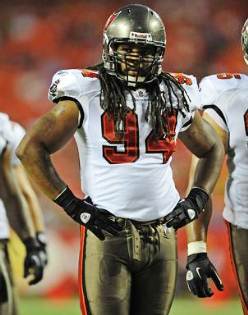 As Davin Joseph reminded Bucs fans yesterday, any whiff of the "country club" Raheem Morris era is long gone from One Buc Palace.
Frankly, that "country club" line from Joseph was nothing new. Several weeks ago, he told the dean of Tampa Bay sports radio, Steve Duemig, that the Bucs under Raheem "lost that hard-work ethic," and last year Joseph spoke of the New Schiano Order have much higher strength and conditioning standards than the Raheem regime.
The Bucs resumed team-supervised training on Monday, and Adrian Clayborn took to Twitter to explain his pain yesterday.
@AJayClay – Legs and arms so sore I have to use my elbows to get off the couch lol. #thanksJB
The "thanksJB" hash tag surely refers to former Rutgers and current Bucs strength and conditioning coach Jay Butler.
Joe finds it interesting that Clayborn, hardly a workout slacker, was hurting so soon. Joe suspects after a full season working with players under the New Schiano Order, Butler's detailed workouts individually crafted for players are a supremely challenging out of the gate.