Banks Pick Shows Confidence In Defensive Line
April 26th, 2013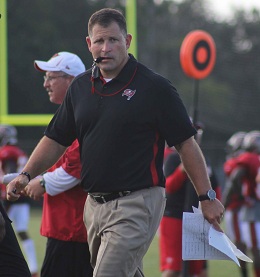 The Bucs' selection of former Mississippi State stud cornerback Johnthan Banks in the second round is definitely a backhanded vote of confidence for the Bucs' defensive line — and a statement of the team's priorities on defense.
Rockstar general manager Mark Dominik and Greg Schiano must really have faith that Da'Quan Bowers, Adrian Clayborn, Derek Landri, Gerald McCoy, Gary Gibson and Daniel Te'o-Nesheim will get to the passer and make everyone forget Michael Bennett and run-stuffer Roy Miller.
Schiano said he expects Bowers to be a double-digit sack guy, and Dominik said Darrelle Revis will cause quarterbacks to "pause," which will create sacks. These guys must really mean it.
Sure, the Bucs likely will use the middle rounds to bring in defensive line talent, but that's still not a premium pick(s).
Schiano loves coaching defensive backs with a very hands-on approach, like he did with the Chicago Bears. Now he's a got another talented one to coach up.