"Money Is Power"
April 23rd, 2013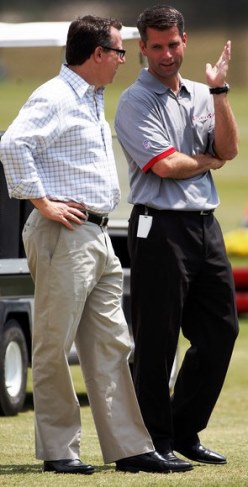 The Bucs scored Darrelle Revis for one main reason. That was available Team Glazer cash, says former Jets personnel executive and linebackers coach Pat Kirwan.
It's a reason rockstar general manager Mark Dominik won't talk about directly, Kirwan explained yesterday on his radio show heard on Sirius XM NFL Radio.
"They have the salary cap space to do these kinds of things. And I said it all spring, 'money is power.' You walked into this with $32.8 million of [salary cap] space," Kirwan said. "They gotta spend some money anyway. Most teams couldn't do this. Now Mark [Dominik] wouldn't say those things."
Kirwan went on to say "logic drove the Bucs to this decision" because the best two cornerbacks in the draft wouldn't have been there for Tampa Bay at No. 13 overall. (Joe knows many believe there are only two corners worthy of first-round grades come Thursday night.)
Joe must call Kirwan out just a bit, though. Two weeks ago, Kirwan explained why Revis would never get paid anywhere close to $1 million a game. Guess money really is power, Pat.
Here are Kirwan's thoughts on the Bucs and Revis.