Mocking: Travis Kelce
April 16th, 2013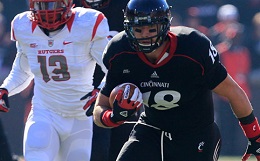 It would seem logical that the Bucs will draft a tight end next week, but the big mystery is where.
Some think it's with the No. 13 overall pick and Notre Dame stud Tyler Eifert. Draft guru Justin "The Commish" Pawlowski, however, who has spent years studying the Big East as part of the USF Football radio team, pens in his latest mock draft that the Bucs will make their move on a Big East guy with massive potential in the third round.
73. Tampa Bay Buccaneers – Travis Kelce – TE – Cincinnati
Commish's Comments: I've become a big fan of Kelce. Yes, he was suspended for the entire 2010 season for a violation of team rules, but he came back to play 2 seasons at Cincinnati. Kelce is a very good blocker, but do not consider him just a blocking tight end.  He has very good hands to be a security blanket for the quarterback, but also has the speed to stretch the seem of a defense. Kelce is a very aggressive football player who might need consideration for a 2nd round pick.  Character concerns might drop him a little, but if he stays out of trouble, Kelce could end up as the top tight end in this class.
Kelce's a true unknown. He was recruited out of high school as an elite 6-5 quarterback but transformed into a beastly tight end after being mysteriously suspended by Cincinnati for the entire 2010 season. He's an elite athlete with a pile of baggage, who didn't work out at the NFL Scouting Combine because he was coming off hernia surgery, but he was there to be grilled by teams.
Joe suspects Greg Schiano might have good intelligence on Kelce from his time in the Big East. Whether that draws the Bucs to Kelce, or makes them run, is anyone's guess.