Matty Ice Already Concerned With Darrelle Revis
April 24th, 2013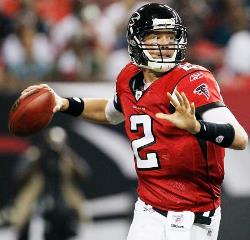 News of Jets star cornerback Darrelle Revis in Tampa over the weekend for a physical and an eventual trade made waves in the area not seen outside of a tropical storm.
Well, the rumblings are now being felt in other areas of the NFC South. Tuesday, Dixie Chicks star quarterback "Matty Ice," Matt Ryan, appeared on NFL Network and was asked about Revis on the Bucs.
Let's just say Revis now has the full attention of Matty Ice.
"He is a great player, he really is," Ryan said. "He is one of the best if not the best in the NFL. He will make our jobs even tougher. [The Bucs] already have a solid defense. The addition of Darrelle makes them even tougher. It's a good pickup. Makes our division even tougher."
As Joe has written previously, the one player that Drew Brees and Cam Newton and Matty Ice are going to learn so much about that they can recite their high school stats in their sleep will be Eric Wright.
If Revis is remotely the player he was before his ACL injury, quarterbacks are not going to throw to his side. Rather, they are going to pick on Wright. If Brees or Newton or Ryan put up 35 passes against the Bucs, Joe is confident you can lay a week's paycheck that 15 of those passes are going to be thrown at Wright.