Draft The Next Jerramy Stevens?
April 18th, 2013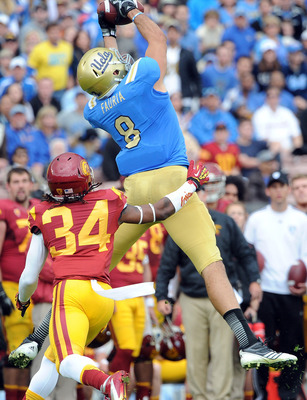 No, Joe's not calling for the New Schiano Order to sign a drunk-driving, weed-obsessed, alleged-rapist tight end to catch passes in the red zone. That wouldn't happen.
But the allure of someone with Jerramy Stevens' football talents might be a good idea for the Bucs next week, so says former Bucs tight end and current radio analyst Anthony Becht.
Speaking on WDAE-AM 620 yesterday Becht said the Bucs might be wise to take a long, late-round look at UCLA tight end Joseph Fauria. Becht is very tuned into this year's draft class at the position. He spent much of the offseason training top-tier TE talents, including Tyler Eifert, at IMG Academy in Bradenton.
"A very good receiving tight end, big target, reminds me of a Jerramy Stevens type guy," Becht said of Fauria. "He's a guy that if you can get late, he can definitely make some hay into the passing game. He's 6-7, a big tall guy, red zone, a lot of production at UCLA.  He could be someone that could help you, if you're going through the draft to find somebody."
Fauria caught 46 balls, including 12 touchdowns, last season, but he lacks the speed to be a threat down the seam, and that's why he's projected as a late-round pick or an undrafted free agent.
Typically, if the Bucs coveted a West Coast or California guy like Fauria, they'd draft him in the seventh round rather than run the risk of signing him as an undrafted free agent, ala Sammie Stroughter in 2009, or Erik Lorig in 2010. The odds of luring an undrafted kid from the West Coast across the country to Tampa is tough, unless he has no other options. And if that's the case, that's a red flag.
As for the Bucs' need for a giant red zone target? It can't hurt, though Chucky, and later Greg Olson, never figured out how to maximize Stevens' ability. Perhaps Mike Sullivan is more of an offensive genius.