Draft Madness All Weekend
April 26th, 2013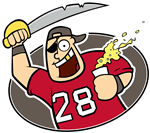 For those unsure what Joe will do as the New Schiano Order drafts new players tonight, Joe wants to make sure everyone knows Joe will pound out as all kinds of stuff on these here pages as the picks are revealed.
Whatever intriguing background Joe can find, Joe will deliver through the night. Also, the newest Buccaneers are sure to get a little quick love on local sports radio, and Joe surely will pass on whatever is interesting.
Then, of course, there's reaction from One Buc Palace.
In short, stick with Joe through all weekend, as the Bucs score more draft picks and start luring undrafted free agents. Joe also will have an open thread going through tonight's second and third rounds, so you can moan, groan and cheer for all your Internet comrades.