Davin Joseph "Biased" With Josh Freeman
April 16th, 2013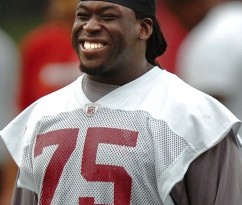 In a scene that eerily reminded Joe of last year in the Bucs locker room on an otherwise nondescript weekday, when receiver Mike Williams launched into a passionate defense of Bucs quarterback Josh Freeman, guard Davin Joseph offered another passionate defense of the embattled Bucs quarterback today.
Only with Joseph, who is about as even-keeled as an NFL player can be, his voice didn't rise or his speech quicken like Williams' did.
"Everybody has to do their job and we have the quarterback to take us to the next level," the oft-smiling Joseph said today at the podium at One Buc Palace.
When asked why he thought Josh was "The Guy" to have as quarterback, Joseph was adamant.
"I am biased," Joseph answered with his trademark beaming smile. Freeman is "my friend, my teammate. Of course, I'm biased. The thing that will make Josh 'The Guy' is the team. The team will make him 'The Guy.' It's the defense doing what the defense is supposed to do. Special teams making plays. Offensive line blocking, receivers catching, running backs running. Everything will make Josh 'The Guy.'
"Look at the Super Bowl, it wasn't the two best quarterbacks in the league, it was the two best teams in the league. So Josh's success will come with the team, just like every other quarterback. Peyton Manning didn't make it to the Super Bowl. Tom Brady didn't make it to the Super Bowl. It is about the best team.
"I defend Josh a lot because I feel like everybody wants to point to him but it's the team, the organization, it's the coaches, it is everybody.
"I know Josh is 'The Guy' because I know everything we need to win is here. When it comes together, we will be praising Josh with the MVP trophy, but it is a team sport."
Yes, Joseph is correct. Teams win championships. Freeman will not always be on his A-game each week, just like linebackers and linemen and running backs will struggle at times.
That is why for the Bucs to be playing January football, Freeman also needs to be a bit more consistent and not go for sometimes weeks playing like an inexperienced backup.