D.J. Hayden And The Bucs
April 17th, 2013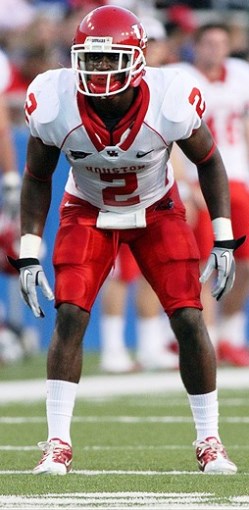 Man, the Bucs need cornerbacks worse than a bear in the woods needs a roll of toilet paper. One name Joe will be looking out for is Houston corner D.J. Hayden.
Late last season, Hayden was thought to be one of the top corners in the nation before a violent collision on the practice field nearly cost him his life. He was rushed to an emergency room and had to have his chest sawed open to find the source of the bleeding.
Hayden was thought to be near-death. And he was.
Hayden fought back to compete in the combine where he wowed people running a 4.3 40-yard dash. His quick feet allows him to handle man-coverage well and, with his blazing speed, he has great recovery and closing technique.
He hasn't played football since November. But the way he was able to bounce back from near death says something to Joe about his spirit.
"The first couple days [after surgery] I was really depressed," Hayden told Joe and other reporters at the NFL Combine. "I thought I'd never play football again. But the doctor told me after three or four months I should be able to play again. I was like, 'Okay. I have hope.' But there was always doubt in my mind. I was questioning myself, 'Why did this happen to me?' I even questioned God because I was in a whole different state of mind.
"I have a whole new outlook on life. All the stuff I took for granted, I don't take for granted any more whether it's family, friends, God – I'm cherishing every moment because you never know when your time is up.
"The way I'm looking at it is if you're going to do something, do it to your fullest. If I'm going to play a game, I'm going to play my hardest the whole game. If that was my time to end, I don't feel I finished like I finished my career the way I wanted to. I don't feel like I played well in my last game. I just want another opportunity to play another game and do what I can do."