Gun Charges Against Da'Quan Bowers Dropped
April 11th, 2013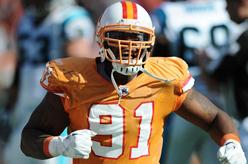 Per Woody Cummings of the Tampa Tribune, charges in New York against Bucs defensive end Da'Quan Bowers for packing heat in a New York airport have been dropped.
@RCummingsTBO: Da'Quan Bowers gun charges reduced to disorderly conduct violation, per his attorney. Fined $250 with a $120 surcharge.
So this helps clear up the defensive end question for the Bucs in the upcoming draft. In the state of New York, gun charges usually are very, very, very harsh and there was no guarantee that Bowers wouldn't serve some sort of jail time in 2014.
Now that this incident is behind Bowers, who told authorities he accidentally had his rod in his carry on luggage, Joe has a hunch the No. 13 pick will go defensive tackle.
Or to the Jets for youknowwho.
UPDATE: Mike Garafolo of USA Today has reaction from Bowers' counsel, Dennis Coppin.
"(Da'Quan is) very happy, and honestly the Queens County District Attorney's office investigated the case thoroughly and he was honest when he had the gun," Coppin said. "He turned it over to the first gate agent he saw. He did the right thing, and they did the right thing in their investigation."
Coppin added, "Sometimes with these cases, you have to use common sense. Obviously, a lot of people are anti-guns or what not, but you just can't have a blanket rule that applies to (all cases)."