Bucs To Sign Former Pro Bowl WR Steve Smith
April 2nd, 2013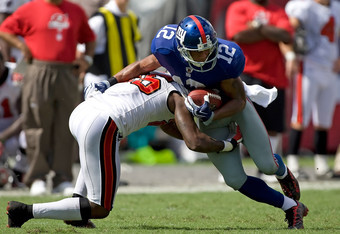 Who knew the Schiano edict of more competition would find its way so quickly to the Bucs' receiving corps?
Per USA Today, the Bucs have come to terms with former Giants, Eagles and Rams receiver Steve Smith, who caught 107 balls for the Giants in 2009 and went to that season's Pro Bowl. His position coach that season? Bucs offensive coordinator Mike Sullivan.
Smith has agreed to a one-year deal with the Tampa Bay Buccaneers, according to a person informed of the progress of negotiations. The person, who spoke to USA TODAY Sports on condition of anonymity because the financial terms weren't to be discussed publicly, said it's for the veteran minimum of $840,000.
Joe's not getting all hot in the pants about this signing. Smith, who turns 28 next month, did a whole lot of nothing in Philly and St. Louis the past two seasons outside of being banged up. Joe wonders if Smith still has the blazing, 4.3 speed that made him a second-round pick out of Southern Cal.
But what intrigues Joe are the Bucs' moves to bolster depth in their receiving corps and force bigger competition among the ranks in the slot, adding veterans Smith and Kevin Ogletree to Tiquan Underwood, and jettisoning disappointing Arrelious Benn.
This also seems to be a sign that the Bucs will make some fans unhappy and not draft West Virginia wide receiver Tavon Austin with the 13th overall pick, if he's even there for the taking.