"We're Going To Wait And See What Ronde Feels"
March 13th, 2013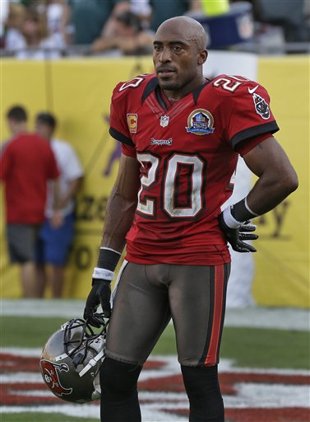 So how does Ronde Barber feel today, with his football career in limbo and after the Bucs signed All-Pro safety Dashon Goldson to replace Barber at free safety?
(Yes, Joe knows Greg Schiano said Goldson will play both safety positions based on situations.)
It seems Ronde isn't talking. Barber played the Pro-Am golf tournament at Innisbrook Resort in Palm Harbor today, and various reports say Barber wasn't commenting.
As for the leader of the New Schiano Order, Schiano said today at One Buc Palace that today is about Goldson and not Barber.
"We're going to wait and see what Ronde feels," Schiano said.
Joe's glad the Bucs still want Barber, obviously at cornerback, where he surely would be the nickel back and compete for a starting corner job.
But what does Barber feel about all this? Only he knows — and the clock ticks.