Titans Eyeing Michael Bennett
March 10th, 2013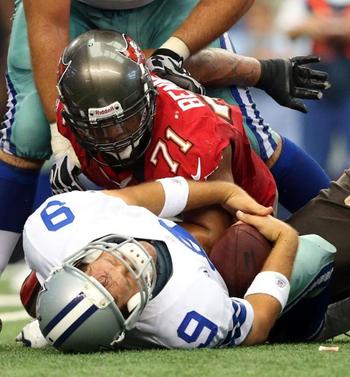 Joe predicted this Thursday. The Titans and their "pass rush specialist" coach Keith Millard, the Bucs' defensive line coach in 2011, are eyeing soon-to-be free agent Michael Bennett, per NFL.com.
Bennett will be set free from the Bucs at 4 p.m. Tuesday, unless rockstar general manager Mark Dominik calls Team Glazer to fire off the fat check it will take to retain Bennett.
Joe keeps thinking back to the recent take of former Bucs defensive end Steve White. If the Bucs are going to continue to blitz repeatedly and have their D-linemen run a bunch of pass rush games, then it doesn't make sense to invest big money on the defensive line and resources are better spent on blitzers and cover corners.