The Pressure Of Landing Darrelle Revis
March 27th, 2013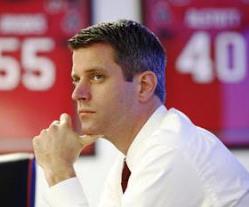 Since before the 2012 season was completed, Bucs fans already were hollering about what free agent cornerback the Bucs should sign when the free agency bell rang.
Now two weeks after the doors were thrown open to start free agency, the Bucs have not collected a cornerback for one of the NFL's most historically rotten pass defenses (though Bucs rock star general manager Mark Dominik did reel in safety Dashon Goldson).
This has been met by Bucs fans about the same way citizens in Cypress reacted upon learning banks were closed by their government and funds seized. Of course, the situation has ratcheted up the expectations Bucs fans have that Jets cornerback Darrelle Revis will be wearing pewter and red, so Twittered eye-RAH Kaufman of the Tampa Tribune.
@IKaufmanTBO: Buc fans will be very upset if the club doesn't consummate a deal for Revis. Lots of pressure on Dominik and Schiano to close this deal
Joe sees where Kaufman is going but Joe isn't quite there yet. It's pretty obvious Dominik doesn't believe the corners currently on the free agent market are worth working up a sweat over.
Joe firmly believes Dominik thinks if he drafts two corners in the first three rounds, those guys will be just as talented and, perhaps, more cost effective than the guys knocking on doors looking for work as the close of March nears.
Also keep in mind Dominik could still keep Eric Wright in the fold. The fact he is still on the roster demonstrates how little Dominik thinks of the current cornerback free agent crop.
Remember folks, the regular season is five months away. Lot of clock left for Dominik to repair holes at corner.