The Myron Lewis Riddle
March 12th, 2013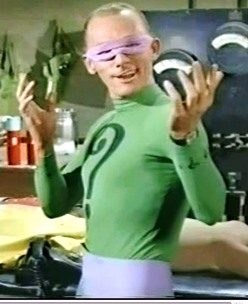 Joe found it more than interesting yesterday when he learned Bucs rock star general manager Mark Dominik was shopping wide receiver Arrelious Benn.
A former second round draft pick, Benn pretty much had his career hijacked by an ugly knee injury as a rookie and has never been the same. In fact, it seems as if he has been cursed.
If what Jason La Canfora of CBSSports.com reported is true, it only stands to reason, sadly, the Bucs have given up on Benn and are willing to move on.
It's too bad. The guy is a hard worker and you won't find a better dude.
This brings Joe to one of the most popular of Bucs players, cornerback Myron Lewis.
Like Benn, Lewis was part of the vaunted 2010 draft class. Unlike Benn, Lewis, a third round draft pick, has never shown an ability, save for a spurt or two against second and third teamers in training camp, to be deemed worthy of a third round pick much less a starting job.
Like Benn, Lewis has been injury prone, but none of his injuries were even close to being as nasty as Benn had with his knee.
Joe thought it was telling that last year, each week it seemed, the Bucs trotted out a cornerback they pulled away from a real estate office or a beer distributorship to come off the street and take the field. Yet all the while, there was Lewis (when he wasn't hurt) sitting on the sidelines with his hands on his hips.
Now Joe knows a general manager will give a high draft pick all the rope he needs to establish himself. But if the Bucs are willing to wave goodbye to Benn, it also stands to reason that the Myron Lewis Experiment has run its course as well.
It's hard to justify Lewis' roster spot when last year the Bucs were signing gravediggers to play ahead of him.
How Lewis has lasted this long is still something of a riddle.
At least Benn, sans those annoying "Benn'd Around" plays, has shown an ability to be an NFL player.