Picking A Defensive Tackle At No. 13 A Shocker
March 2nd, 2013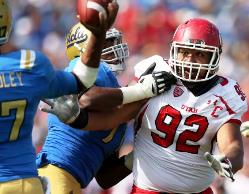 There are so many positions the Bucs could pick at No. 13, Bucs rock star general manager Mark Dominik could barely go wrong.
Defensive end, offensive tackle, cornerback, safety, inside linebacker, tight end, outside linebacker, Joe could make an argument for either of those positions in the first round. But drafting a defensive tackle would not be one of them.
That didn't stop Russ Lande of National Football Post from predicting Dominik will nab Utah defensive tackle Star Lotulelei with their first pick.
13. Tampa Bay Buccaneers: Star Lotulelei, DT, Utah, Senior: Gerald McCoy is an elite talent on the verge of becoming a star, but with the Buccaneers seemingly ready to let fellow defensive tackle Roy Miller leave as a free agent opposing offenses would be able to focus on him. They decide to gamble that Lotulelei's heart issue is not going to have a long term effect on his career and grab him to play next to McCoy.
Joe would fall flat on his back if Dominik picked a defensive tackle at No. 13. That's not a need position. At all.
Yes, Roy Miller is a free agent. But what Miller is asked to do — and he does it well — is to eat up blockers, which enable both Gerald McCoy and Lavonte David to run free.
There are not a lot of 43 defenses that ask a defensive tackle to do what the Bucs ask of Miller. So his services are extremely limited on the free agent market.
If Dominik drafts a tackle at No. 13, that tells Joe Greg Schiano is completely overhauling his defense and Joe frankly doesn't expect him to do that. Find some cornerbacks, you know, just a couple of average cornerbacks, and you have a solid defense.
There are far more uncertainties at defensive end than at defensive tackle. Will Michael Bennett be back? Can Da'Quan Bowers stay healthy for a year? Can Bowers stay out of a New York cage? Can Adrian Clayborn rebound from an ugly knee injury?
That is why Joe would expect a shivering Rachel Watson to show up at his door tonight in search of warmth and comforting before Dominik drafts a defensive tackle with the thirteenth pick.