Painting Themselves Into A Corner
March 16th, 2013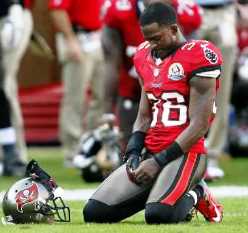 Joe is confused. He hasn't been this confused since he covered Bill Bidwill's flock.
For months the Bucs raved about Roy Miller's play. They credited him with the reason why Gerald McCoy and Lavonte David had breakout seasons. Yet they let Miller leave for the price of an NFL bag of popcorn.
The Bucs admitted they needed more quarterback pressures from their defensive line, yet they turn a cold shoulder to a dedicated soldier who led the team in sacks and led the defensive line in tackles for loss and let him leave for the price of a six-pack of beers at the Stadium on Dale Mabry.
Manatee High School has a better roster of cornerbacks than the Bucs, yet the Bucs back up a Brinks truck for a safety (Yes, Joe loves Dashon Goldson if you must know).
Speaking of corners, right now, not counting the draft, your Bucs starting corners could be Eric Wright and Danny Gorrer. Surely, Bucs rock star general manager Mark Dominik and Greg Schiano can see this. Ray Charles could see this.
Cornerbacks and the Bucs were a subject brought up in a recent BSPN NFC South chat.
GurS (Edgware, UK)

We all know the Bucs need at least two new corners. If they're adamant on pursuing Revis, why aren't we trying to sign a second (much-needed) corner? At best, gives us upgrades at both starting spots, at worst, becomes insurance if the Jets' FO decide to keep Revis

Pat Yasinskas

CB market isn't great, as the CBs are finding out. Think you'll see them add a CB as market continues to cool.
Now Joe knows the Bucs have turned their noses up at the available cornerbacks believing they are not that good, especially for the price they are asking. That's understandable.
Thing is, beggars can't be picky. This just in: The Bucs were a handful of yards away from a the worst NFL pass defense. The only thing that has been addressed at cornerback is the Bucs' ability to wash their hands of Eric Wright, if they are so inclined.
Pick the top four free agent corners that were out there looking for a new team. Can anyone say with a sober mind that those four — you pick the four — are worse than Danny Gorrer?
Now Joe has written before that he wouldn't be opposed to Dominik pulling a Bill Walsh and drafting three corners in the first five picks. But that option is out the window right now because of the voids left by Bennett and Miller's exit.
So last year the Bucs had the best rush defense in the league and by mid-March three of the starting seven — almost half — are gone. That is not a comforting thought.
But this is not an accident. It was the Bucs that willingly waved goodbye to Bennett and Miller. Quincy Black can't come back because of nerve damage. The moves (non-moves?) thus far make so little sense. Joe must believe the Bucs have had some plan all along that will be revealed soon.
Time will tell, but Joe just cannot fathom the Bucs are prepared to start Wright and Gorrer at corner this fall.