Not Easy Being Mark Dominik
March 24th, 2013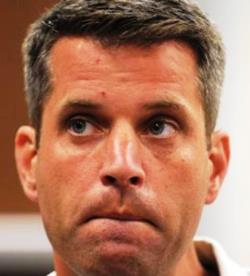 When the Bucs inked stud safety Dashon Goldson to a major contract, Bucs rock star general manager Mark Dominik was lauded from Tallahassee to Naples.
Just a few days later when defensive end and Bucs sack leader Michael Bennett and defensive tackle Roy Miller — who the Bucs raved about at every turn last year as if he was Joe Greene — walked away for about the price of a luxury box at the Stadium on Dale Mabry Highway, fans turned on Dominik rather quickly.
But as former Bucs defensive end Booger McFarland notes, it is not easy being Dominik these days, writes McFarland, who co-hosts "Booger and Rich" heard on locally WHFS-FM 98.7.
If the season started today theoretically we can play with the defensive linemen we have. Bowers, McCoy, and  Clayborn sound pretty good when all are healthy and humming. But when you talk corners, it's a completely different deal. The sound of Johnson, Gorrer, and any other slappy in the secondary just doesn't do it for me.

So Mark Dominik is in charge of changing that, but he must be careful. We need the signings/trades to impact our team like Vincent Jackson, not like Mario Williams. We need Simeon Rice not Albert Haynesworth. Which spins the arrow right back to where it should be pointing, at Mark Domink.

It's up to Dominik to fix the areas in which we are weak or down right awful. So as we all sit and wonder what's going to happen and start to panic because there haven't been any corners signed or traded for, remember not only does Dominik's reputation depend on it, so does his job.
Look, even Dominik admitted when he was interviewed on SiriusXM NFL Radio last week that the Bucs need upgrades at cornerback. He was blunt about this, as are many fans. So it is not like Dominik has blinders on.
It is still March. Lets wait a while to see how things shake out? Training camp is a good four months away. The draft is a month away.
That's a lot of time to make moves to bolster the Bucs at cornerback.