Myron Lewis Getting Another Shot
March 25th, 2013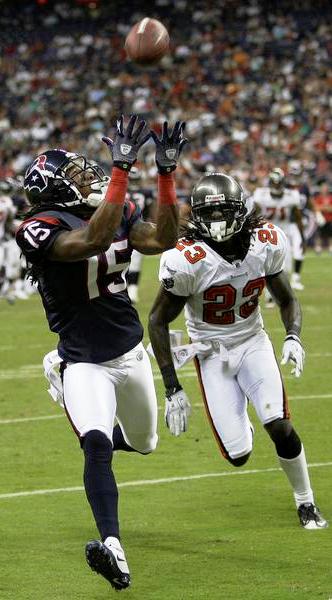 It appears the Bucs, as we currently stand on the final Monday of March 2013, are so devoid of talent at cornerback that fan favorite Myron Lewis will be granted yet another shot to produce.
Lewis, a third round pick out of Vanderbilt in 2010, more often than not finds himself on the inactive list due to some malady than he finds himself on a football field. Judging by his first three seasons in the NFL, that's been a blessing in disguise for the Bucs.
Joe thought it was telling that the Bucs pulled in bank tellers and insurance salesmen and beer truck drivers to play at cornerback last year while Myron Lewis watched the parade of cornerbacks from the sidelines.
In an extraordinary detailed surgery of Lewis by Pewter Report honcho Scott Reynolds, he documents the many reasons why Bucs fans shake their heads when Lewis' name is mentioned, and more importantly, why the Bucs are giving him yet another shot and has yet to be handed a pink slip.
There are several reasons. First, the Bucs are desperate at the cornerback position. They need to be adding young, talented cornerbacks – not losing them. Lewis is young (he'll only turn 26 on November 24) and he has talent. What he appears to be lacking is toughness – mental and physical – and confidence. Lewis missing the 2011 season opener against Detroit with a mild ankle sprain – after missing two preseason games a few weeks earlier with a hamstring injury – is one instance that stands out.

The second reason why he's still in Tampa Bay is Lewis' size. Schiano and the front office like big cornerbacks and at 6-foot-2, 203 pounds, Lewis is blessed with length and great athleticism. There isn't a cornerback with Lewis' size in the 2013 draft aside from North Carolina State's David Amerson, whom the Bucs aren't considering drafting because of his bad character.

The final reason why Lewis is getting a final shot to live up to his draft billing in Tampa Bay is because he received poor coaching last year. Not just Lewis – every Bucs cornerback did. Schiano took a chance on former LSU secondary coach Ron Cooper and the move turned out to be a mistake as Cooper was often too quiet and not assertive enough, especially on the sidelines on game days when it came to coaching up technique and relaying adjustments to his defensive backs.
The article is damning to Lewis and Joe strongly recommends clicking the link.
Look, Bucs rock star general manager Mark Dominik is no different than any other general manager in an NFL front office, in that Dominik will give players he drafted plenty of opportunities to develop until said player proves to be more of an Albatross than the team can handle.
Thus far, as most Bucs fans know and as Reynolds documents, Lewis, with all the rope Dominik has granted him, has done his best to hang himself. Quickly, aside from two or three plays in a training camp practice, name a play that Lewis has made in his three years in the NFL. On the other hand, Joe can name several in which Lewis was roasted by opposing quarterbacks and receivers — badly.
Joe is going to guess that new cornerbacks coach Tony Oden won't be granting Lewis any favors just because he was a third round draft pick.