Michael Bennett Has A Rotator Cuff Injury
March 24th, 2013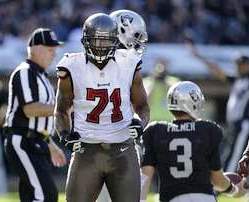 Now Joe remembers in the days after the Bucs' sack leader Michael Bennett left the Bucs and signed with Seattle for about the cost of six beers at the Stadium on Dale Mabry Highway, Bucs fans erupted in outrage.
Joe was as puzzled as the rest of Bucs fans. How could you let a guy who led your team in an area of need walk away for basically nothing?
Then Joe had contact with a front office suit who told Joe the Bucs were spooked by Bennett's shoulder and ankle maladies and thought the injuries would get worse.
Well now, seems as if Joe's source knew what the heck he was talking about. Just this afternoon, ESPN's Adam Schefter Twitters out that Bennett has a nasty shoulder injury.
@AdamSchefter: Seahaws DE Michael Bennett, who left Tampa for Seattle, was diagnosed with torn rotator cuff. Injury why Bennett got a 1-yr deal in SEA.
So there is your answer why the Bucs didn't fall over themselves trying to re-sign Bennett. A rotator cuff injury to a defensive lineman is nasty. Kind of hard to use your hands and fight off blockers when you can't use an arm.
Sometimes, a team's front office really does know what it is doing.