Let Ronde Barber Retire
March 10th, 2013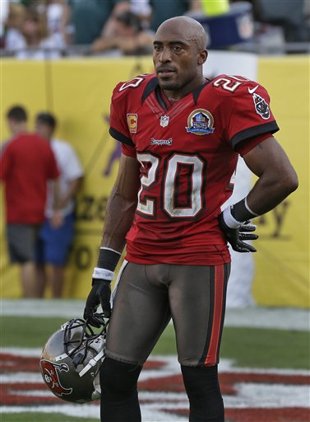 On the surface, it appears Bucs great Ronde Barber is keeping the Bucs in a holding pattern as he weighs his decision to come back for one more year or to hang up his cleats.
Joe is torn. He would love to see Barber return. At the same time, Joe believes Bucs rock star general manager Mark Dominik and coach Greg Schiano should proceed as if Barber is gone. To do otherwise is painting yourself into a corner.
Enter Tampa Tribune columnist Martin Fennelly. The longtime sports voice of Tampa Bay believes it is best for all parties if Barber would just announce his retirement after a proud NFL career.
The Bucs, looking to avoid another butchered goodbye to one of their icons, have made the smart play. They've apparently told Barber they wanted him back, but promised him no starting job. It's up to him.

That should be Barber's cue. It's more than Derrick Brooks ever got. Man, did the Bucs mess that up. We don't need that to happen to another good man.
It is an interesting angle Fennelly touches. Shoot, just yesterday, Joe got a Twitter from a Bucs fan suggesting Barber's final offer from the Bucs was more than Brooks got; nerves are still raw from Bucs fans about how Brooks left the team.
This very well could be the best exit for all parties. Barber walks away, his body intact, his memories intact, his play still better than many. No team-hopping for two years in a desperate attempt to hang on to a career when Father Time, who is undefeated, thinks it's better to turn the page.
Joe would welcome Barber back for one more lap around the NFL. The Bucs, however, should proceed as if he is retired.