Josh Freeman Is "Overvalued"
March 5th, 2013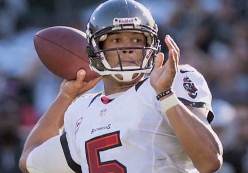 Well, "The Stat Society" is at it again. The numbers crunchers at Pro Football Focus fired up their spreadsheets and recently offered a list of "overvalued" and "undervalued" players broken down by team.
One really jumped off the page. The Pro Football Focus gang listed the 10 most "overvalued" quarterbacks in the NFL and Bucs starting quarterback Josh Freeman is among them, types film junkie Khaled Elsayed.
7. Josh Freeman, Tampa Bay Buccaneers

2012 Cap Hit: $8.5m
2012 Performance Based Value: $4.4m
Value Differential: -$4.2m

You see why the Bucs aren't exactly endorsing Josh Freeman as their long-term option at quarterback. When they needed him to step up and carry the team he just couldn't get the job done and his performance in the second half of the season was alarming to say the least, throwing 12 picks in the final seven games. With a weapon like Vincent Jackson, he really doesn't have any excuses for not doing more.
Other quarterbacks on that list include Michael Vick, Philip Rivers, Kevin Kolb, Mark Sanchez and Matt Cassel.
The lukewarm patting on the back of Freeman just after the season by Greg Schiano, and his delayed mea culpa some two months later, surely tells Joe that Freeman's make or break year is this season.
Yeah, he could return as Joe suspects. But if Freeman has another uneven, unclutch year, the Bucs are not going to break the bank for him.
Joe also suspects Bucs rock star general manager Mark Dominik will get more toys for Freeman in the coming weeks. With more toys, a second year in Mike Sullivan's offense, and a healthy front line, it will all be set up for Freeman to shine.