Good Teacher-To-Student Ratio
March 3rd, 2013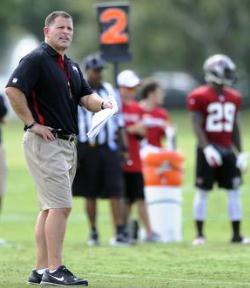 Many suits and eggheads in the American education system believe the higher the teacher-to-student radio is, or in other words, the lower the class size, the better it is for the student.
If that is the case, then the Bucs have the best education system in the NFL.
As documented recently by Rick Stroud of the Tampa Bay Times (damn, Joe is still typing "St. Petersburg Times" by mistake), probably no team in NFL history has had a bigger coaching staff.
Including Schiano, the Bucs have 24 members on their staff for 2013, or nearly one for every two players on the 53-man roster. Roughly half of those assistants have worked for or with Schiano, many at Rutgers. Still others have crossed paths with him during his career.
What Stroud later pointed out jumped off the computer screen for Joe. If offensive coordinator Mike Sullivan gets a head coaching gig (he was in the running with the recently-filled Bears gig) or if the defensive backfield woes continue under Bill Sheridan, Schiano likely has their successors already on staff in John McNulty and Dave Wannstedt.
At the NFL Combine, when Joe asked Schiano whether Wannstedt's significant experience on the defensive side of the ball were being wasted as just a special teams coordinator, Schiano was emphatic that Wannstedt would have his hands full in his current title.
Perhaps that could change down the road?