"Expect" Michael Bennett To Sign With Dolphins
March 14th, 2013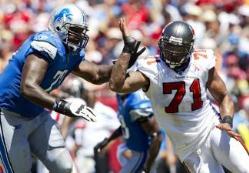 While Bucs fans are grinding their gears watching cornerback after cornerback fly off the market and, with the Bucs staring at a possible return of Eric Wright and Danny Gorrer as starting cornerbacks, those same fans may also be missing another potential Bucs starter slipping away.
There is no question a Michael Bennett return looked grim. He even said himself this week it was looking like a "20 percent" chance of him suiting up for the Bucs next season.
So it is not a shocker to see Rick Stroud of the Tampa Bay Times throw out on Twitter that Bucs fans should "expect" Bennett to ink a pact with the Dolphins.
@NFLSTROUD: Expect DE Michael Bennett to become a Dolphin. The Bucs are committed to going with Bowers and Clayborn. Bennett wants paid as a starter
This does make sense. No team in the NFL is throwing money around like a drunken Monopoly player more than silly Stephen Ross and the Dolphins. Shoot, malcontent wide receiver Mike Wallace is getting $60 million over five years and one could make an argument he isn't even a top-10 wide receiver.
So if any team is going to overpay Bennett and his agent, South Florida-based oily Drew Rosenhaus, it would be the Dolphins.
If the Dolphins don't sign Bennett, Joe wouldn't be shocked if he did re-sign with the Bucs, though Joe has no idea what the odds are. The market for defensive ends is greatly depressed and Bennett, to date, has not closed the door on a return to Tampa Bay.