Eric Wright, You Have Been Denied!
March 15th, 2013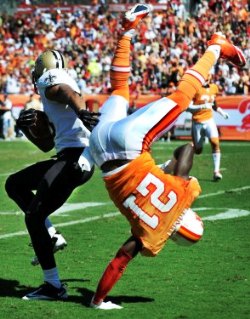 Well, Bucs rock star general manager Mark Dominik has had a rollercoaster week.
First, he gets stonewalled by the Jets trying to trade for cornerback Darrelle Revis, then he lands stud safety Dashon Goldson, then he sees his subpar pass rush grow weaker when Michael Bennett bolts for Seattle and now the week is ending on a high note for Dominik.
Cornerback Eric Wright's grievance against the Bucs has been denied by the NFL. The NFL alerted the Bucs this afternoon that Wright's contract can be voided.
@RCummingsTBO: NFL has indeed informed the Bucs they have won their grievance with Wright. Wright's 2013 salary no longer guaranteed. As expected.
Wright, a free agent pickup last year by Dominik, had a clause in his contract that it could be voided if he was suspended. Last season, the NFL nailed Wright for popping Adderall and he served a four-game suspension for violating the NFL's banned substance policy, thus kicking in the option for Dominik to cut him.
But Wright isn't cut, yet. Given how miserable the Bucs cornerbacks are, given how Dominik has yet to land Revis after much heavy petting with Jets general manager John Ikzik, given how Dominik has either struck out on every free agent cornerback, or has decided to sit in the dugout and watch all the decent corners go elsewhere, the Bucs, as the roster currently stands, do not have the luxury of cutting Wright, even though Bucs fans have been drooling for Wright to get kicked to the curb since the end of the 2012 season.
Wright is a backup plan for Dominik now. If the Bucs cannot upgrade the corner position (God forbid), Dominik, Joe believes, will rework Wright's contract for a much more team-friendly deal.
He's still with us, folks.