Bucs Trying To Trade Eric Wright
March 23rd, 2013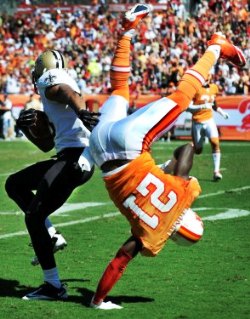 Now this is a smart yet futile move, if correct.
If the Bucs do land Darrelle Revis from the Jets, or even another free agent cornerback, the days of Eric Wright with the Bucs are over. Wright, busted for popping Adderall last season by the NFL, had a clause in his contract in which Dominik could void it and cut him if he was suspended for violating the NFL substance policy.
Well, if the creator, curator and overall guru of ProFootballTalk.com, the great Mike Florio's source is accurate, Wright surely has played his last snap in Tampa Bay.
It seems Bucs rock star general manager Mark Dominik is trying to trade Wright.
Given the current cornerback market, Wright surely would have to agree to a dramatically reduced deal in order to facilitate a trade. Which could mean that he'll refuse, making it difficult if not impossible to trade him.

In the end, the Bucs may have to just cut him — which then would allow him to sign the best deal he could find on the open market.
No, there is no friggin' way Wright is worth anywhere close to his contract. Not when better corners are signing for less than a third of the nearly $8 million the Bucs are on the books (for now) to pay Wright for 2013.
It seemed clear that the only way the Bucs kept Wright was if they couldn't upgrade the corner position, a position that is woefully inadequate for the NFL.
Does this nugget of news suggest Dominik is confident Revis will be wearing Bucs pewter and red colors this fall? Sure smells that way.