Bucs Reel In Another Body At DE
March 31st, 2013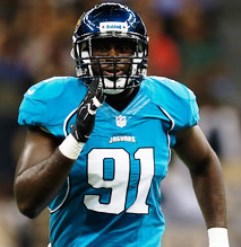 It's not John Abraham or Dwight Freeney, but the Bucs will have a new defensive end familiar to Tampa Bay area football fans.
George Selvie is your newest Buccaneer, per Tampa Bay Times USF beat writer Greg Auman.
Selvie has bounced around from the Rams to the Panthers and Jaguars in his first three seasons after being a seventh-round pick of St. Louis in 2010.
Selvie was a monster during his sophomore and junior seasons at USF, earning first-team, All-American honors, but he had a major letdown his senior year and plummeted on draft boards.
Joe suspects Greg Schiano, who got plenty of looks at Selvie in college, was a driving force behind the signing. Yeah, there's a good chance Selvie is a just a quality training camp body, but given how thin the Bucs are at defensive end, the New Schiano Order might have higher hopes.